Sea Eagle SE 420X Pro Package - New Season Price
This is the biggest of the Sea Eagle Inflatable Kayak range. It can carry up to 3 persons or 2 adults and loads of kit. The largest of the versatile Explorer Series, this rugged and durable inflatable kayak weighs only 19kgs, can handle up to Class IV rapids and is also great on the open-water. Comes with AB 40 paddles and 2 x rigid tall back seats.
The Sea Eagle SE 420X Pro

This is the biggest of the Sea Eagle Inflatable Kayak range. It can carry up to 3 persons or 2 adults and loads of kit.
SE 420x Pro Kayak Package

Spindrift Product Review - Very robust kayak and a real 'do it all' package. The SE 420X is extremely stable, and suitable for absolutely every type of paddling. Can be paddled by 2 x adults and can take up to 2 x adults + extra children/ dogs. Extra seats can be added.
The tall back seats offer great back support for prelonged periods of paddling.
Spindrift do not suggest single person paddling the SE 420X kayak.
Specifications:
| | |
| --- | --- |
| Interior: | 406 cm x 38 cm |
| Exterior: | 427 cm x 94 cm |
| Deflated: | 79cm x 53cm x 25cm |
| Tube Diameter: | 29cm |
| Capacity: | 2-3 Adults or 388 kg |
| Weight: | 19 kg |
| Chambers: | 3 (port, starboard & floor) |
| Material: | 1100 Decitex Reinforced |
| Seam: | Quadruple Overlap Seam |
| Floor: | Separate High Pressure Drop Stitch floor |
| Air Valves: | 2 Recessed One Way |
| Inflation time: | 9 min. |
Pro Package Includes;
2 x AB40 8' 4 part paddles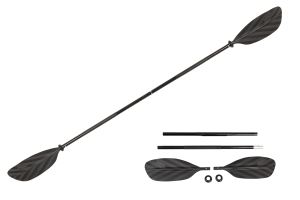 Fiberglass reinforced blade
Breaks into 4 parts
Multiple feathering angles
Weighs just 2.75 lbs.
Weighs 2.75 lbs. Snap lock buttons to disconnect into 4 parts.
2 x Tall Back Kayak Seats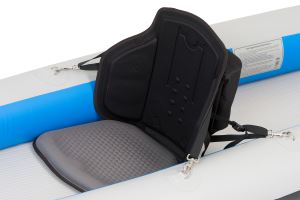 Great back support
Low sitting position
Storage Bag in rear
14"x18"x14"
Tall Back Kayak Seat latches securely to the d-rings on our Explorer Kayaks and Paddleskis. Built in zipper pouch on the back for storage. Made of thermal molded foam. Provides great back support with an 18" high back rest. Great for any outing. Lightweight and durable. The molded foam construction gives you a low sitting position to for maximum stability in rough whitewater and excellent back support. Only weighs 2 lbs.
Bow and Stern Storage Bags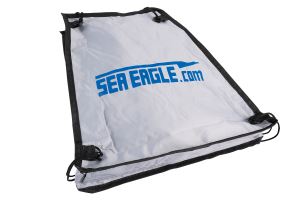 Rugged 440 Denier Nylon construction
Holds pump, extra life jackets & lunch
A-41 Large Bellows Pump
Directional Stabilizer for Explorer Kayaks
In flat water, slide on the large, removable skeg to keep the explorer on its intended course. The skeg limits the sideways deviation called yaw that comes from paddling, allowing for greater efficiency and speed. Ideal for those long treks across wide, scenic lakes renown for placid beauty.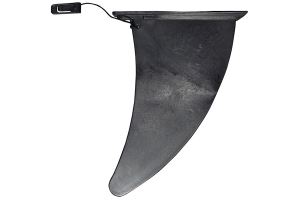 Kayak Carry Bag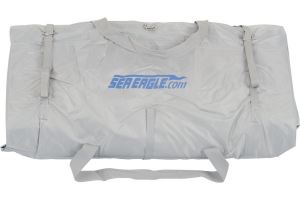 Wraps around boat
holds boat & pump
Shoulder straps
Total Price Inclusive of VAT and 'FREE' UK delivery