Sea Eagle SE 385 Fast Track Pro Package - New Season Sale
SE 385 FT Pro Package


Featuring a sharper, narrower, tapered bow for faster entry through wind, waves and water. New state of the art Needle Knife Keel for a faster, smoother paddling experience!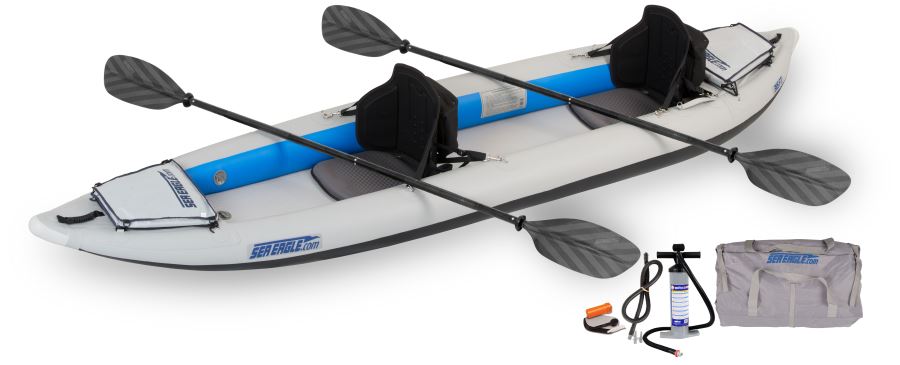 Why the FastTrack Kayak Paddles So Well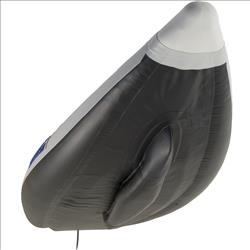 The Shape Says it All
Patented Drop Stitch Outside Keel (U.S. Patent #8,286,573) at bow rides over waves, providing buoyancy and constrains the natural yaw of an inflatable kayak
Removable Rear Skeg keeps kayak headed on its intended course. Can be removed for whitewater use.
Super rigid drop stitch floor increases the overall rigidity of the kayak and creates side chines under the pontoons that enhance overall paddling performance.
Featuring a sharper, narrower, tapered bow for faster entry through wind, waves and water. New - state of the art NeedleKnife Keel for a faster, smoother paddling experience!

Standard Features:

NMMA Certified

2 High capacity self-bailing drain valves

Front & rear spray skirts with storage below and elastic rope lacing for additional storage above

Separate inner High Pressure Drop Stitch floor for greater rigidity

Large removable skeg at rear to control yaw and improve speed

Outside drop stitch high pressure keel at bow for true tracking

16 D-rings to secure seats for one or two person use

Bow and Stern grab h

andles

Hull material completely resistant to sun & saltwater

Nylon carry bag, repair kit & Printed instructions

Specifications:

| | |
| --- | --- |
| | Exterior:381cm x 91cm |
| Weight: | 14 kgs. |
| Capacity: | 2 Persons or 288 kg |
| Interior: | 353cm x 38cm |
| Tube Diameter: | 24cm |
| Deflated: | 25" x 18" 8" |
| Chambers: | 4, Port, Starboard, Keel and Floor |
| Material: | 1100 Decitex Reinforced |
| Seam: | Quadruple Overlap |
| Air Valves: | Recessed One Way |
| Inflation time: | 7 Minutes |
| Whitewater Rating: | Suitable up to Class II |

Package Includes;
2 x AB40 8' 4 part paddles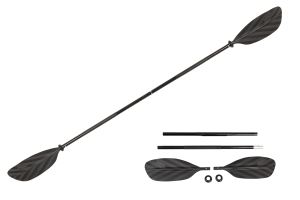 Fiberglass reinforced blade
Breaks into 4 parts
Multiple feathering angles
Weighs just 2.92 lbs.
The asymmetrical spoon blade design of this Kayak paddle allows for smooth entries and an even pull, maximizing the power from your stroke. They require less gripping force, less effort per stroke. Weighs 2.92 lbs. Snap lock buttons to disconnect into 4 parts.
2 x Tall Back Kayak Seats



Tall Back Kayak Seat latches securely to the d-rings on our Explorer Kayaks and Paddleskis. Built in zipper pouch on the back for storage. Made of thermal molded foam. Provides great back support with an 18" high back rest. Great for any outing. Lightweight and durable. The molded foam construction gives you a low sitting position to for maximum stability in rough whitewater and excellent back support. Only weighs 2 lbs.Great back support

Low sitting position

Storage Bag in rear

14"x18"x14"
Stow Bag (Small) for Kayaks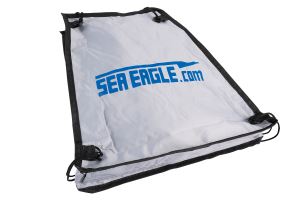 Rugged 440 Denier Nylon construction

Holds pump, extra life jackets & lunch
This trim, attractive bag fits on our FastTrack or Explorer kayaks. Great for storing snacks, drinks, repair kits or a spare pump.
A-41 Large Bellows Pump
A high capacity foot pump made of durable ABS plastic that packs down for easy travel. Comes with triple styled nozzle for use on deluxe one-way valves.
Kayak Carry Bag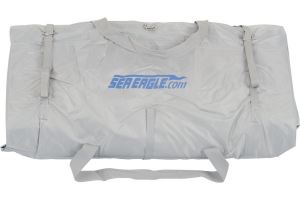 Wraps around boat

Holds boat & pump

Shoulder straps
The real time saver of this bag design is the way it wraps around the boat hull. You don't have to spend time folding the boat to the exact proportions of the bag. Just roll up the boat and place on the open bag, and wrap the flaps around it.
Repair Kit
Two swatches of material (9" x 4 3/4")

1.5 oz. tube of glue

Valve replacement tool
Repair kit for SailCat, Transom Sport Boats, Explorer Kayaks, FastTrack Kayaks, FoldCats and Paddleski models. Includes two pieces of hull material, tube of glue & Halkey-Roberts valve replacement tool.

Total Price Inclusive of VAT and 'FREE' UK delivery
Rated: 5&nbsp/ 5
Based on 2 reviews
I'm 4 weeks into a 6 week bike and kayak tour of Scotland's Lochs. Bought this after excellent advice from Mark and couldn't be happier. I tow the 385ft on a trailer behind a Airnimal folding bike, on the water the 385 carries the trailer and bike without any handling issues. So far I've kayaked 20 Lochs. It handles choppy Scottish Lochs without issues and is as good as can be expected in headwinds (like most inflatables it's quite wide so not as good as a hard shell). Took it out to sea in Moidart and it was fine but this isn't a sea kayak. Works well with a sail and I was able to paddle Loch Shiel with minimal effort. Kayak does weigh more than advertised, so I assume that weight is without seat, bag etc. Real on the water weight is nearer 20kg.. Overall this is a superb kayak for touring with a bike. It's stable, reliable, well made and Spindrift are an excellent company to deal with.
After spending a few months researching inflatable kayaks I came

across the names Sea Eagle and Spindrift, I made arrangements to have a look at the Fast Track 385. On the day I met up with Mark and after a chat and seeing the 385 made the purchase. First time spent 2-3 hours with my son in and around St Mary's bay. We were both very impressed with the way it handled, Very stable and moved through the water with ease. The following day went out with a neighbour who, I hope doesn't mind me saying, Is a big chap and still it moved through the water with ease and little effort, Even with just myself paddling. This is a very good kayak well made and works exactly as claimed, A very good craft. I would recommend it to anyone looking for an inflatable kayak. Many thanks to Mark and the staff at Spindrift.