Sea Eagle SE 380X Pro - New Season Price
Sea Eagle SE 380X Pro - New Season Price

Computer-aided design and state-of-the-art fabrication allows a reduction in weight (9-12lbs) while improving structural strength. Now with 16 drain valves for super-fast self-bailing in white water. Also features, removable slide skeg for improved tracking on open water. These new Explorers are the "pound for pound" champions capable of handling any type of adventure.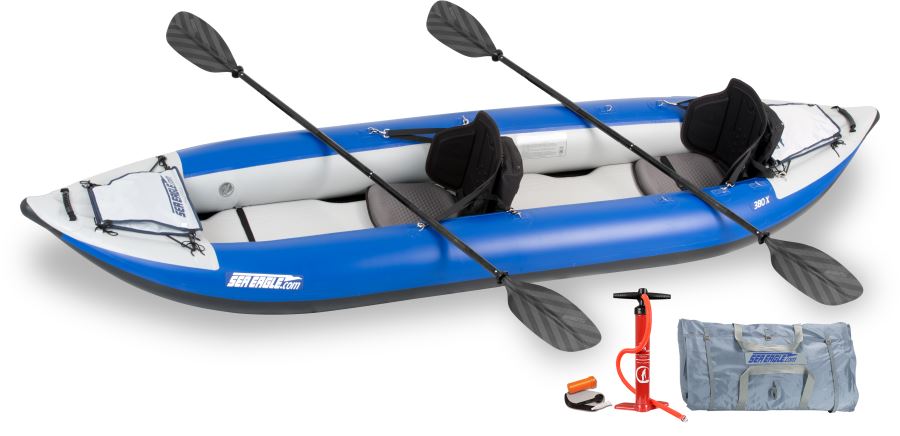 Rocket fearlessly down Class IV rapids.
Traverse miles of wilderness rivers to spend weeks at impossibly obscure camping sites.
Reach remote Fly fishing trout streams and lakes other fishermen can't get to.
Fits easily in the trunk of your car or a small plane.

Specifications:
Interior:
358 cm x 38 cm
Exterior:
376cm x 95cm
Deflated:
79cm x 51cm x 23cm
Tube Diameter:
29 cm
Capacity:
2-3 Adults or 340 kg
Weight:
17 kg
Chambers:
3 (port, starboard & floor)
Material:
1100 Decitex Reinforced
Seam:
Electronically welded seams
Floor:
Separate High Pressure Drop Stitch Floor
Air Valves:
3 Recessed One Way
Inflation time:
8 min.
Whitewater Rating:
Suitable up to Class IV
Standard Features:

NMMA Certified
16 High Capacity Self-bailing Drain Valves
Large slide-on Skeg
Removable Inflatable Seats
Front & Rear Spray Skirts with Carry Handles and bungee cords
Separate Drop Stitch floor for rigidity
6 D-rings to secure seat for one or two people
One-Way Valves On Main Chambers
Carry Bag, Repair Kit & Instructions
Package Includes;

2 x AB40 8' 4 part paddles

Fiberglass reinforced blade
Breaks into 4 parts
Multiple feathering angles
Weighs just 2.92 lbs.

The asymmetrical spoon blade design of this Kayak paddle allows for smooth entries and an even pull,

maximising the power from your stroke. They require less gripping force, less effort per stroke. Weighs 2.92 lbs. Snap lock buttons to disconnect into 4 parts.

2 x Tall Back Kayak Seats

Great back support
Low sitting position
Storage Bag in rear
14"x18"x14"

Tall Back Kayak Seat latches securely to the d-rings on our Explorer Kayaks and Paddle skis

. Built in zipper pouch on the back for storage. Made of thermal moulded foam. Provides great back support with an 18" high back rest. Great for any outing. Lightweight and durable. The moulded

foam construction gives you a low sitting position to for maximum stability in rough white water and excellent back support. Only weighs 2 lbs.

2 x Stow Bag (Small) for Kayaks

Rugged 440 Denier Nylon construction
Holds pump, extra life jackets & lunch

This trim, attractive bag fits on our FastTrack or Explorer kayaks. Great for storing snacks, drinks, repair kits or a spare pump.

A-41 Large Bellows Pump

A high capacity foot pump made of durable ABS plastic that packs down for easy travel. Comes with triple styled nozzle for use on deluxe one-way valves.

Kayak Carry Bag

Wraps around boat

holds boat & pump

Shoulder straps

Total Price Inclusive of VAT and 'FREE' UK delivery.
Rated: 4&nbsp/ 5
Based on 5 reviews
Quite expensive but very good quality product.

So easy and very quick to set up

Had problem with steel paddles, with locking button pushing out and getting lost, so upgraded to carbon paddles, which have a different design, and are lighter.

Not had chance to use on rapids over grade 1 yet but hopeful of good performance.

Boat fills easily with water when raining and does not seem to drain well even with all cocks open. Have to get used to being wet.
In my first year I have paddled solo and tandem on rivers up to grade 2 and canals, the boat is very versatile and performed well in all conditions, I would have no fear about taking it in grade 3 water or above when my skills improve, it''s excellent stability is a great confidence booster. You really can stand up in it making getting in and out a pleasure, I have not once thought it would capsize.

The boat is very tough and shows no signs of wear and tear at the end of the year.

Overall I am very happy with the boat it is so handy to put in the car for holidays without the worry of someone stealing it when not in use, and it really does perform as well as a hard shell.
Great canoe,even greater service. Buy with confidence from this company,they look after you.Their inflatables are stable ,and safe, and I use mine off shore abroad on holiday.My partner and have huge fun as the canoe is so versatile.

Redfern