Sea Eagle SE 370 Pro Package - New Season Price
This affordable inflatable sport kayak is as lightweight and portable as it gets, yet still remarkably stable and durable. The SeaEagle 330 has a big sister, the 370. It's just 6 lbs. heavier (32 lbs.) and has a carrying capacity of 3 people or 650 lbs. You can carry enough gear for that long weekend trip of fishing, exploring or river running. Form and function make the SeaEagle 370 America's second most popular inflatable kayak. Our most popular model, nice and roomy, comes with canvas covered inflatable seats. Great all round package.
In Stock - Ready for Launch!
Sea Eagle SE 370 Pro Package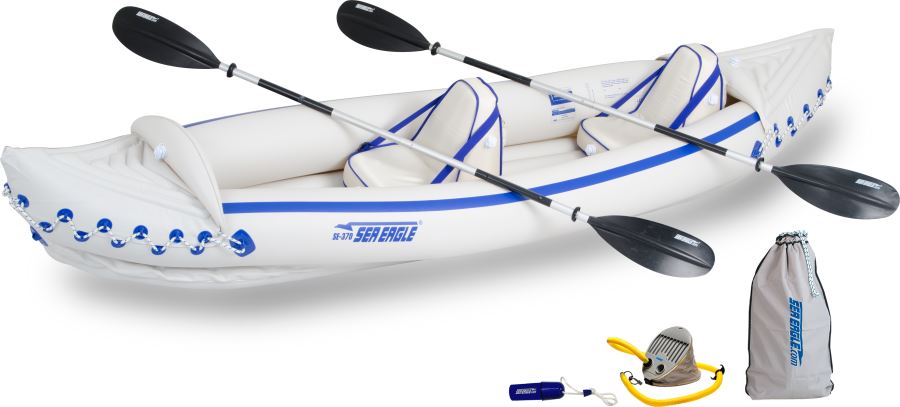 Top of the line seats and paddles
Spindrift Product Review - Fantastic kayak suited to single person or 2 adults. The canvas covered DKS Seats offer increased back support for prelonged paddling.
This is our most popular package in the Sport Kayak range. Great all rounder. A great, affordable package for fun on the water.
Standard Features:
NMMA Certified
Self bailing drain valve
Three deluxe one-way valves
Lashed down inflatable spray skirts
I-beam construction floor
2 skegs on the bottom for better tracking & speed
Pressure Gauge and Repair Kit
Bow & Stern Grab Line
Specifications:
| | |
| --- | --- |
| Interior: | 325 cm x 33 cm |
| Exterior: | 380 cm x 86 cm |
| Deflated: | 79 cm x 48 cm x 20 cm |
| Tube Diameter: | 23 cm |
| Capacity: | 3 Persons or 295 kg. |
| Weight: | 14.5 kg. |
| Chambers: | Three (Port, Starboard and Floor) |
| Material: | 38 mil PolyKrylor (K80 PVC) |
| Seam: | High Frequency Welded |
| Floor: | Inflatable I-beam construction |
| Air Valves: | 5 Deluxe One Way |
| Inflation & Assembly time: | 8 min. |
Package Includes;
2 x AB30 7'10" 4 part paddles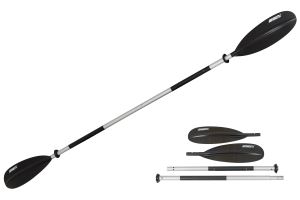 Asymmetrical blade
Aluminum shaft
Disconnects into 4 parts
Weighs just 2.62 lbs
7'10" Double end asymetrical paddle is great for all our canoe, kayak and paddleski models. The paddle features aluminum shafts with Fibrylon blades. It has a 65 degree feather capability. Snap lock buttons to disconnect into 4 parts. Weighs just 2.62 lbs
2 x Deluxe Inflatable Seats
Deluxe Inflatable Seat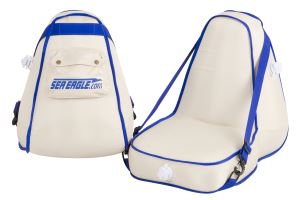 New design for superior back support
Includes rear pocket for additional storage
14"x19"x20"
Deluxe Inflatable Seat. A great inflatable seat that provides extra back support for paddling
A-41 Large Bellows Pump

A high capacity footpump made of durable ABS plastic. Packs down for easy travel
1 x Repair kit
Includes patches and glue
CARRYBAG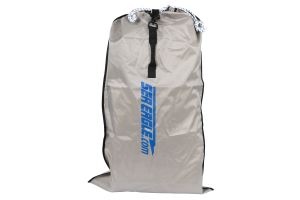 New Carry Bag for transporting your Sea Eagle 330 and 370. Made with heavy duty 440 denier nylon fabric. Measures 26"x48".
Total Package UK Price Inclusive of VAT and FREE UK Delivery
Rated: 5&nbsp/ 5
Based on 4 reviews
Dave

Thought you might like to know - we tried out our S370 yesterday on our local canal - and were amazed! The boat is so easy to paddle, and very quick - at least as good as the 14 footer I used to have. And The skegs work very well - she tracks straight! .
We also noted the relative stiffness of the boat - inflatables are notoriously wonky when getting in & out. Yet, we were able to get in & out via the short back deck of out 'Trad' narrow boat as easily as alongside the bank. Great stuff! I've already advised 2 lots of friends to go for Sea Eagle - it's a great package

Keith
Dave, just a quick e-Mail to say thanks very much for the excellent help and service you provided over the last couple of weeks. I received my Sea Eagle package on Wednesday and have just spent an excellent weekend away with the family in Snowdonia, Wales. The kayak is Excellent, really sturdy and tracks well for an inflatable. I will be recommending you company in future and am already looking to add to the Kayak with the addition of the Sea Eagle Sail.

Again, thanks for your help Dave. Hopefully we'll have many years using the Sea Eagle!
Peter Thompson
/ Dorset England
I gave this item stars as it exactly what I wanted and I got what I expected. I have used it on the sea and grade two water and have been impressed with how well it handles, I am also pleased with how quick it is to inflate and get on the water.
Fantastic purchase. Have used this or two summers now including to Holidays in Spain. The kids have loved paddling out to sea in a safe and reliable product.
The product is of the highest standard and everything still looks like the day we bought it even after spending many days at sea and in the sun.
The service and delivery was perfect and the advice given prior to purchase was spot on.